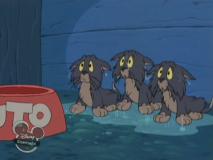 Pluto's Kittens
is a Pluto cartoon originally featured in the fifth episode of
Mickey Mouse Works
. It was later featured in the
House of Mouse
episode "
Pluto Saves the Day
".
Plot
Pluto overcomes his dislike for felines and rescues three stray kittens from a rainstorm. Hiding them from Mickey, Pluto takes the blame for their antics, and gets thrown out of the house for breaking the rules. In the end, Mickey discovers the kittens,apologizes to pluto for sending him out into the rain and all is well.
Ad blocker interference detected!
Wikia is a free-to-use site that makes money from advertising. We have a modified experience for viewers using ad blockers

Wikia is not accessible if you've made further modifications. Remove the custom ad blocker rule(s) and the page will load as expected.