Plunderball is the second half of the 20th episode of Dave the Barbarian.
Synopsis
Dave finds himself coaching Udrogoth's Plunderball team in the big annual game, a job he knows nothing about. Things get even worse when the opposing team's coach is none other than Dave's ex-girlfriend, Princess Irmaplotz.
Song
A Six-Letter Word for Hurray!
v - e - d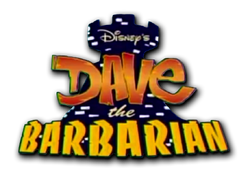 Locations
Udrogoth • Great Indoor Marketplace • Sorcery School • Hyrogoth