Ad blocker interference detected!
Wikia is a free-to-use site that makes money from advertising. We have a modified experience for viewers using ad blockers

Wikia is not accessible if you've made further modifications. Remove the custom ad blocker rule(s) and the page will load as expected.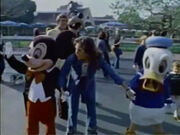 "Please Mr. Postman" is the debut single by The Marvelettes for the Tamla (Motown) label, notable as the first Motown song to reach the number-one position on the Billboard Hot 100 pop singles chart. The single achieved this position in late 1961; it hit number one on the R&B chart as well. "Please Mr. Postman" became a number-one hit again in early 1975 when The Carpenters' cover of the song reached the top position of the Billboard Hot 100. The Carpenters sing the version of this song in a music video taped at Disneyland starring Mickey Mouse, Donald Duck and Goofy.
Lyrics
Wait!
Oh yes, wait just a minute Mr. Postman
Wait!
Wait Mr. Postman
Mr. Postman, look and see
(Oh yeah)
If there's a letter in your bag for me
(Please, please Mr. Postman)
I've been waiting a long long time
(Oh yeah)
Since I heard from that gal of mine
There must be some word someday
From my girlfriend so far away
Please Mr. Postman look and see
If there's a letter, a letter for me
I've been standing here waiting Mr. Postman
So-o-o patiently
For just a card or just a letter
Saying she's returning home to me
Please Mr. Postman
Mr. Postman, look and see
(Oh yeah)
If there's a letter in your bag for me
(Please, please Mr. Postman)
I've been waiting a long long time
(Oh yeah)
Since I heard from that gal of mine
So many days you passed me by
Trail of tears standing in my eye
You didn't stop to make me feel better
By leaving me a card or a letter
Mr. Postman
Mr. Postman, look and see
Is there a letter in your bag for me?
(Oh yeah for me)
I've been waiting such a long time
Since I heard from that girlfriend of mine

You gotta wait a minute, wait a minute, oh yeah
(Mr. Postman)
Wait a minute, wait a minute, oh yeah
(Mr. Postman)
You gotta wait a minute, wait a minute, oh yeah
(Mr. Postman)
Check it and see, one more time for me
You gotta wait a minute, wait a minute, oh yeah
(Mr. Postman)
Wait a minute, wait a minute, oh yeah
(Mr. Postman)
Mr. Postman, oh yeah
(Wait a minute, wait a minute Mr. Postman)
Deliver the letter, the sooner the better
You gotta wait a minute, wait a minute, oh yeah
(Mr. Postman)
Wait a minute, wait a minute, oh yeah
(Mr. Postman)
You gotta wait a minute, wait a minute, oh yeah
(Mr. Postman)
You gotta wait a minute, wait a minute, oh yeah
You gotta wait a minute, wait a minute