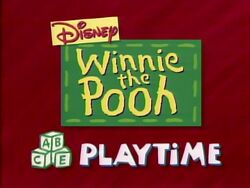 The "Playtime Song" is the theme song from the Winnie the Pooh Playtime VHS series. Singer Stephen Schwartz from Parachute Express sings this song.
Lyrics
Preview version
Hey, It's Playtime, Yippi-Yay Time
A World of Adventure is waiting for you
You'll adore these Playtime Stories
With 3 types of fun and 3 times as much Pooh

Pooh is making friends and taking
A Journey to somewhere Exciting and New (Exciting and New)
You can go there, Now you know where
To find the adventures of...Can you guess who?

Hooray Time! It's Playtime with Winnie the Pooh!

Release version
Hey, It's Playtime, Yippi-Yay Time
Pooh Bear Is Happy To Be Here With You
Hurry, Hurry, Someone Furry
Is Ready To Play, And He's Winnie The Pooh

Pooh Bear Laughs 'Cause Life Is Pretty Funny
There's So Much To See And Do (So Much To See And Do)
Pooh Bear Smiles When He Is Full Of Honey
Have Some Too, You And Pooh!

The World Keeps Spinning, Pooh Keeps Grinning
He's Full Of Adventure, So Shiny And New (Shiny And New)
So Exciting, So Inviting
To Open The Door And See...Can You Guess Who?

We're Laughing And Playing With Winnie The Pooh!

Episode Clips
Gallery
Ad blocker interference detected!
Wikia is a free-to-use site that makes money from advertising. We have a modified experience for viewers using ad blockers

Wikia is not accessible if you've made further modifications. Remove the custom ad blocker rule(s) and the page will load as expected.