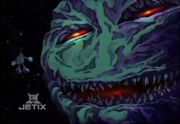 Planetoid Q
is a living planetesimal with a jack o' lantern-esque face, in 
Super Robot Monkey Team Hyperforce Go!
, ordered by
the Skeleton King
to collide with
Shuggazoom
. Later, it is convinced by
Chiro
to make its own decisions and do what it wants, instead of listening to the Skeleton King's commands. Planetoid Q appeared as an aspect of the Dreamlands in a later episode.