Ad blocker interference detected!
Wikia is a free-to-use site that makes money from advertising. We have a modified experience for viewers using ad blockers

Wikia is not accessible if you've made further modifications. Remove the custom ad blocker rule(s) and the page will load as expected.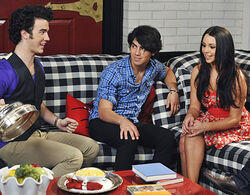 "
Pizza Girl
" is a song which appears in the
Jonas L.A.
episode "
Pizza Girl
", when all three of the boys have a crush on the Picarllo's pizza girl, Maria. It is performed by JONAS (
Jonas Brothers
).
Lyrics
Love showed up
At my door yesterday
It might sound cheesy
But I wanted her to stay

I fell in love with the pizza girl
Now I eat pizza everyday, oh
I fell in love with the pizza girl
Now I eat pizza everyday

I was stuck
In a box
For so long

Now I say
That the pizza girl
She's the one for me
Yeah

I fell in love with the pizza girl
Now I eat pizza every day, oh
I fell in love with the pizza girl
Now I eat pizza every day
Now I eat pizza every day
Now I eat pizza every day