Pixie Dust
Comments

0
23,997pages on
this wiki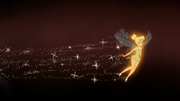 Pixie Dust
is a magical golden glitter-like powder that grants the power of flight, which is fueled by happy thoughts, "any happy little thought".
History
Originally shown in Peter Pan, Pixie dust apparently comes from the fairy Tinker Bell.
In the Disney Fairies franchise, it is shown to come from a reservoir in Pixie Hollow and evenly portioned out to every fairy in Neverland by the Dust-Talent fairy, Terence. Not only that, but Pixie Dust is needed for every Fairy to be able to fly and use their magic.
In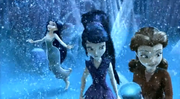 Neverland, every eight years, when the moon turns blue, is a celebration called the Autumn Revelry, during which a Fairy is chosen from a Guild to create a scepter, which will hold the
Moonstone
, which, when the blue moon shines its light through the moonstone, creates blue Pixie Dust, which also rejuvenates the pixie dust tree.
Trivia
In Peter Pan, Peter Pan, Wendy, John and Michael are shown standing on a cloud in Wendy's dream (her parents having returned home from the party on the same night they leave, to find Wendy asleep at the window, implying she dreamt up Never Land and everything in it[1]), which might suggest that weightlessness is a secondary ability granted by pixie dust.
In the NiGHTS video game series, during NiGHTS' flight, a bright substance called "Twinkle Dust" emits from NiGHTS' hands. This substance may be similar to pixie dust.
References