Pixie Dust
Comment

1
25,637pages on
this wiki
Pixie Dust
is a magical golden glitter-like powder that grants the abilities of flight, which is fueled by "happy thoughts".
Description
In its common appearance, Pixie Dust is nothing more than a golden, sparkling powder. This dust comes from special blue pixie dust which replenishes the supply. As a golden color, it enables pixies to fly. Blue dust is shown to be a powerful augment and rejuvinator.  However, there are also other colors of pixie dust revealed/created in the movies, such as green, pink, orange, teal, yellow, and purple, each granting a fairy a talent or augmenting one.
Appearances
Originally shown in
Peter Pan
, Pixie dust apparently comes from the fairy
Tinker Bell
.
In the Disney Fairies franchise, it is shown to come from a reservoir in Pixie Hollow and evenly portioned out to every fairy in Never Land by the Dust-Talent fairy, Terence. Not only that, but Pixie Dust is needed for every Fairy to be able to fly and use their magic.
In Never Land, every eight years, when the moon turns blue, is a celebration called the Autumn Revelry, during which a Fairy is chosen from a Guild to create a scepter, which will hold the Moonstone, which, when the blue moon shines its light through the moonstone, creates blue Pixie Dust, which also rejuvenates the pixie dust tree.
In Jake and the Never Land Pirates, Peter Pan ask the fairies to bestow Izzy with a small pouch of Pixie dust which is only used in emergencies only, however she did have to use it one time when her crew (Jake, Skully, and Cubby) lost Bucky in a race against Captain Hook. In the episode Pixie Dust Away!,Izzy loses all her pixie dust in the Never Sea. The Fairies inform Izzy and the other young pirates the were about to the Fountain of Forever which produce Pixie dust all year round.
In The Pirate Fairy, both the golden-yellow and blue pixie dust can be merged together with the help of a special ingredient to make various colors of pixie dust; each possessing its very own magical properties. Zarina uses the variously colored experimented pixie dust to switch Tinker Bell and her friends talents.
Trivia
In Peter Pan, Peter Pan, Wendy, John and Michael are shown standing on a cloud in Wendy's dream (her parents having returned home from the party on the same night they leave, to find Wendy asleep at the window, implying she dreamt up Never Land and everything in it[1]), which might suggest that weightlessness is a secondary ability granted by pixie dust.
In the NiGHTS video game series, during NiGHTS' flight, a bright substance called "Twinkle Dust" emits from NiGHTS' hands. This substance may be similar to pixie dust.
Gallery
References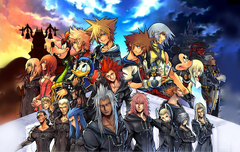 Games
:
Kingdom Hearts
+
Final Mix
|
Chain of Memories
|
Re:Chain of Memories
|
Kingdom Hearts II
+
Final Mix
|
358/2 Days
|
Birth by Sleep
+
Final Mix
|
coded
|
Re:coded
|
Dream Drop Distance
|
HD I.5 ReMIX
|
χ [chi]
|
HD II.5 ReMIX
|
Kingdom Hearts III
Incorporated Films and shorts: Alice in Wonderland | Aladdin/The Return of Jafar | Beauty and the Beast | Cinderella | Fantasia | Hercules | The Hunchback of Notre Dame | Lilo & Stitch | The Lion King | The Little Mermaid | Mickey, Donald and Goofy: The Three Musketeers | Mulan | The Nightmare Before Christmas | Peter Pan | Pinocchio | Pirates of the Caribbean: The Curse of the Black Pearl | Sleeping Beauty | Steamboat Willie | Snow White and the Seven Dwarfs | Tarzan | Tron/Tron: Legacy | The Many Adventures of Winnie the Pooh
Main Characters: Sora | Riku | Kairi | King Mickey | Donald Duck | Goofy | Roxas | Terra | Ventus | Aqua
Villains: Master Xehanort | Ansem | Xemnas | Maleficent/Dragon Maleficent | Pete | Organization XIII | Vanitas | Xigbar/Braig | Xaldin | Vexen | Lexaeus | Zexion | Saïx/Isa | Demyx | Luxord | Marluxia | Larxene | Terra-Xehanort | Young Xehanort | Xehanort's Guardian
Other Characters: Jiminy Cricket | Naminé | Ansem the Wise/DiZ | Yen Sid | Xion | Axel/Lea | Master Eraqus | Dilan | Even | Aeleus | Ienzo | Lingering Will | Data Sora | Data Riku | Data Naminé | Data Roxas | Hayner | Pence | Olette | Riku-Ansem | Kairi's Grandma | Riku Replica | Anti-Saïx | Anti-Sora | Anti-Riku | Sora-Heartless | Jiminy's Journal
Original Monsters: Heartless | Nobodies | Unversed | Dream Eater
Disney Characters and Villains: Queen Minnie | Daisy Duck | Pluto | Tarzan | Winnie the Pooh | Aladdin | Genie | Tron | Magic Brooms | Peter Pan | Quasimodo | | Merlin | Tigger | Eeyore | Rabbit | Ariel | Mulan | Mushu | Jack Sparrow | Chernabog | Simba | Timon | Pumbaa | Nala | King Triton | Jafar/Genie Jafar | Alice | Cheshire Cat | Jack Skellington | Esmeralda | Phoebus | Beagle Boys | Scrooge McDuck | Huey, Dewey and Louie | Master Control Program | Sark | CLU | Rinzler | Beast | Stitch | Hercules | Tick-Tock the Crocodile | Snow White | Wendy (More coming soon)
Square Enix Characters: Leon | Cloud | Neku Sakuraba | Shiki | Others
Plot Elements: Universe of Kingdom Hearts | Kingdom Hearts | Heart | Keyblade War | Dark Seeker Saga | More
Game Elements: Gameplay in Kingdom Hearts | Magic
Objects: Sea-salt ice cream | Wayfinder | Door to Darkness | Keyblade | X-blade | Mickey's Letters | Thalassa Shell | Kingdom Hearts Encoder | Keychain | Gummi Blocks | Bug Blox | Black coat| | Keyblade Armor
Locations: Land of Departure | Disney Castle | Disney Town | Timeless River | Datascape | Radiant Garden | Keyblade Graveyard | Destiny Islands | Traverse Town | Hollow Bastion | Dive to the Heart | End of the World | Realm of Darkness | Castle Oblivion | Twilight Town | The World That Never Was | Castle That Never Was | Halloween Town | Neverland | Wonderland
Organizations/Groups: Organization XIII | Princesses of Heart | Disney Villains Council
Music: Dearly Beloved | Simple and Clean | Sanctuary | Mickey Mouse Club March | Swim This Way | Part of Your World | Under the Sea | Ursula's Revenge | A New Day is Dawning | Destati | Bibbidi-Bobbidi-Boo | He's a Pirate | Beauty and the Beast | This is Halloween | It's a Small World | Night on Bald Mountain | Winnie the Pooh | The Sorcerer's Apprentice | The Pastoral Symphony
Soundtracks: Kingdom Hearts Original Soundtrack | Kingdom Hearts Final Mix - Additional Tracks | Kingdom Hearts II Original Soundtrack | Kingdom Hearts Original Soundtrack Complete | Kingdom Hearts Birth by Sleep & 358/2 Days Original Soundtrack | Kingdom Hearts: Dream Drop Distance Original Soundtrack