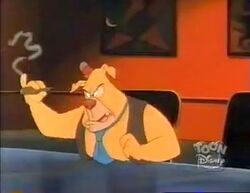 Pitts is a character and antagonist from the TV show Bonkers.
History
He is a toon dog, and the former co-star of the TV show "Pitts and Smarts". After his show and career are cancelled, he threatens a bank with his signature bomb in exchange for his job. After multiple chances gone awry, Bonkers blows him up at an airport with his own weapon. He was voiced by the late Hamilton Camp.
Ad blocker interference detected!
Wikia is a free-to-use site that makes money from advertising. We have a modified experience for viewers using ad blockers

Wikia is not accessible if you've made further modifications. Remove the custom ad blocker rule(s) and the page will load as expected.