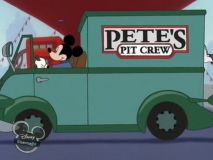 Pit Crew is an animated short starring Mickey Mouse, Donald Duck and Goofy, from the House of Mouse episode "Gone Goofy".
Synopsis
Mickey, Donald and Goofy work as "Pete's Pit Crew", wherein Pete is at a raceway awaiting the crew. However, Goofy had disassembled the truck looking for the source of a squeaky sound (which turns out to be a rubber ducky in his hat). Mickey offends Goofy by saying they need a new sidekick, but quickly backpedals and says that Goofy needs a new hat, and he starts taking Donald's hat, then Mickey's ears and then the hair bows that belong to Minnie and Daisy.
The trio reach a gas station, but due to Goofy's poor re-building skills, they are unable to find the gas cap. Goofy opens up various doors revealing a gas lamp, gas meter, a gastropod (snail), and their "Gast of Honor" (the Mad Hatter). Hatter points out the hat store near the gas station where he got his new hat.
Characters