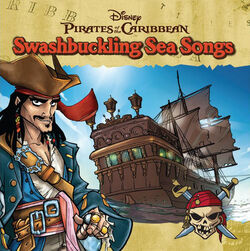 Disney's Pirates of the Caribbean: Swashbuckling Sea Songs is a soundtrack CD released in 2006, as part of a CD/DVD combo pack with Pirates of the Caribbean: Dead Man's Chest at Walmart stores. The CD contained the following 14 tracks, by various artists.
Tracks
Away, Away, Away
Treasure
The First Mate Is a Monkey
Welcome to the Caribbean
Stowaway Listen Listen
The Legend of Davy Jones (Forty Fathoms Deep)
Yo, Ho, Ho (And a Bottle of Rum)
Blow the Man Down
The Pirate King
Pirates of the Black Tide
Davy Jones' Locker
Ad blocker interference detected!
Wikia is a free-to-use site that makes money from advertising. We have a modified experience for viewers using ad blockers

Wikia is not accessible if you've made further modifications. Remove the custom ad blocker rule(s) and the page will load as expected.