Ad blocker interference detected!
Wikia is a free-to-use site that makes money from advertising. We have a modified experience for viewers using ad blockers

Wikia is not accessible if you've made further modifications. Remove the custom ad blocker rule(s) and the page will load as expected.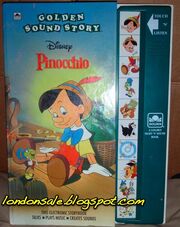 Pinocchio is a Disney-based children story book adaption from the 1940 film By the same name. The stories are based upon the scene from the movie. The book was released in 1993. As part of the Golden Sound Story Series. Published by Golden Books (which is bought and sold to Random House Inc.) The story book contains picture symbols for the each following different sounds. Just like Mickey's Birthday Surprise, Before you turn the page, You press Jiminy Cricket on the moon (which plays "When You Wish Upon A Star.")
Picture symbols and Sound
Each picture symbols makes different sounds
Pinocchio's nose growing - Cartoon SFX (Growing)
Pinocchio whistling - Whistle Sound
Pinocchio's legs - Walking Sound
Jiminy Cricket calling - Jiminy Cricket shouts "PINOCCHIO!"
Honest John's Head - Honest John would say "Well! Well! Well!"
Figaro the Cat - Figaro meows twice.
Shining Star - Sparking Music
Donkey - Shouts "HEE-HAW! HEE-HAW!"
Clocks - Many clock tick-tocking