Pink Elephants
Comments

7
19,050pages on
this wiki
The Pink Elephants
Background information
Feature films
Dumbo
Television programs
House of Mouse
Video games
Park attractions
Portrayed by
Portrayed by
Animators
Voice
Song performed by The Sportsmen.
Performance model
Designer
Inspiration
Honors and awards
Character information
Full name
Other names
Personality
Euphoric, crazy, twisted
Appearance
Various elephant-shaped hallucinations with many colors and forms. They're called "pink" due to their preferred color scheme
Birthday
Occupation
Hallucinations
Affiliations
Goal
Home
Relatives
Pets
Allies
Minions
Enemies
Dumbo, Timothy Mouse
Likes
Fun, drunkness, changing forms
Dislikes
Dumbo's doped state ending, dissapearing
Powers and abilities
Multiplication, shapeshifting, limited reality distortion (only for those who see them)
Weapons
Fate
Forms into clouds
Quote
(from Pink Elephants on Parade) "Look out! Look out! Pink elephants on parade! Here they come! Hippety-hoppety. They're here, and there! Pink elephants everywhere!"
[Source]
The Pink Elephants are hallucinations that Dumbo and Timothy have after drinking the Whiskey that the clowns accidentally drop in Dumbo's water bucket in Disney's 1941 film, Dumbo.
Appearances
During the film, clowns Dumbo has worked with are celebrating with wine.They come up with a plan for their next act,while they are leaving to tell their boss,they knocked over a bottle of wine into Dumbo's water bucket. Dumbo and Timothy drink the spiked water and they start to hallucinate that they are seeing Pink Elephants. These colorful hallucinations dance around and scare Dumbo and Timothy. Eventually, the effects of the whiskey wear off and the elephants fade away.
In the episode "Mickey and Minnie's Vacation", while Donald and Daisy are in charge of the club, they book the Pink Elephants as one of their faulty acts (along with 101 Dragons). Fortunately, Timothy was able to get rid of the technicolor creatures by scaring them away with a wooden sign that says "boo" on it.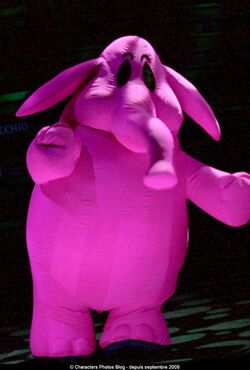 The Pink Elephants appear in certain shows at the Disney Parks.
Animagique
Donald Duck encounters the elephants in the show briefly.
Pink Elephants appear as minor villains in the Disneyland version of Fantasmic! & they encountered Mickey Mouse in his Dream & attacked him with a Pink Elephants Explosion. & the 1st time their new enemy is Mickey Mouse.
Trivia
The Pink Elephants musical number is very controversial due to the inclusion of alcohol and drunkness.
A Pink Elephant made a cameo on the Simpsons where it crushes a goblin hallucination Barney was experiencing that was caused by a peyoti-laced organic drink. Afterwards, Barney thanks it and claims that it's always been there for him.
Gallery