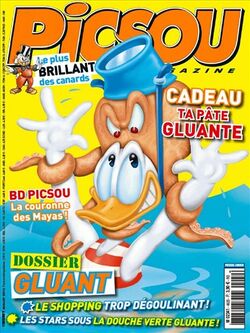 Picsou Magazine is a French magazine featuring characters from The Scrooge McDuck universe, as Picsou ("coin pincher") is the French name of Scrooge McDuck. It is published by Hachette, which has a license from the Walt Disney Company for producing and distributing Disney comics in France.
In every magazine, the readers get a free prank to play on their parents. A few examples are: a sticky tongue, some sticky worms, a squirt gun and a squirt camera.
See also
External links
| | |
| --- | --- |
| | This page uses content from the English Wikipedia. The article or pieces of the original article was at Picsou Magazine. The list of authors can be seen in the page history. As with Disney Wiki, the text of Wikipedia is available under the GNU Free Documentation License. |
Ad blocker interference detected!
Wikia is a free-to-use site that makes money from advertising. We have a modified experience for viewers using ad blockers

Wikia is not accessible if you've made further modifications. Remove the custom ad blocker rule(s) and the page will load as expected.