Phil Coulson
Comments

0
19,061pages on
this wiki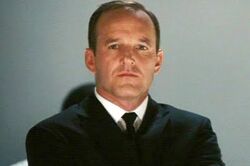 Agent Phil Coulson is a character in the 2012 Marvel action film The Avengers. He is an agent of S.H.I.E.L.D. Coulson is played by Clark Gregg.
History
Phil is a high-ranking agent of S.H.I.E.L.D. and is one of S.H.I.E.L.D's most trusted agents. In the movie Thor, he imprisoned then helped Thor Odinson, after being sent to retreive Thor's hammer, Mjolnir. He is sent by Nick Fury to find the hammer of Thor. His co-agents are Natasha Romanoff, Jasper Sitwell and Clint Barton, as well as his boss Nick Fury. He holds the movies together and has appeared in all lead up movies except The Incredible Hulk and Captain America: The First Avenger. He is also the star of the Marvel One Shot short films. Phil Coulson dies trying to stop Loki in The Avengers.
Phil will appear in the upcoming television show Agents of S.H.I.E.L.D..
Trivia
Gregg stated in August 2011 that he had been getting himself into "fighting shape" for the film. Coulson will be "responsible for shepherding" the film's superheroes together.
Gallery