Phil is the Multi-Universe Transprojector technician at Fish Stick on a Stick for Rippen and Larry.
Phil is short and muscular with dark gray hair, a balding head, black eyes, and a mole on his left cheek. He wears a white tank top, dark blue jeans, a brown waist apron with pockets, and black shoes. On his left shoulder, he has a light blue tattoo of a planet with a Saturn-like ring surrounded by six stars and three tiny planets.
In "At the End of the Worlds", it is revealed that Phil is a cosmic being whose duty is to make sure the Multiverse stays in balance, split in two, with his other half being Phyllis. Him representing evil and Phyllis representing good.
Gallery
v - e - d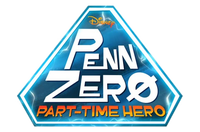 Locations
Middleburg • Middleburg Central High • The Odyssey • Fish Stick on a Stick • North Pole • Knight World • Superhero World • Arabian World • Plush Toy World • Clown World • Dinosaur Cowboy World • Cereal World • Old English World • Giant Monster World • Zombie World • Space World • Ocean World • Color World • Musical Fairy Tale World • Caveman Spy World • Future Barbarian World • Ultrahyperball World • Demon World • Alien World • Galaxy World • Temple World • Dragon World • Gothic Mystery World • Plant World • Animal Barbarian World • Toy World • Outer Space Court World • Robot World • Pirate World • Fairymania World • Steampunk World • Ball World • Ghost World • Rock, Paper, Scissor World • Beast World • Anime World • Sitcom World • Nothingness • Most Dangerous World Imaginable • Least Dangerous World Imaginable
Objects
Multi-Universe Hologram Uplink • Multi-Universe Transprojector • Pigoilet • The QPC Unit • Vortex Tops • Specs