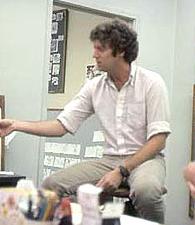 Peter "Pete" Young (born May 5, 1948 - October 16, 1985, Los Angeles, California) was a screenwriter at Walt Disney Productions, he wrote story like The Small One, The Fox and the Hound, Winnie the Pooh and a day for Eeyore, The Black Cauldron, The Great Mouse Detective and Oliver & Company. He also worked on storyboards on projects like Pete's Dragon, The Small One and The Black Cauldron. Peter Young died in 1985 after flu complications.
Filmography
Ad blocker interference detected!
Wikia is a free-to-use site that makes money from advertising. We have a modified experience for viewers using ad blockers

Wikia is not accessible if you've made further modifications. Remove the custom ad blocker rule(s) and the page will load as expected.