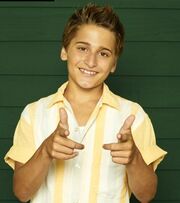 Pesto
is
Wyatt Bernstein
's best friend, who must now learn how to share Wyatt with
Crash
. Pesto goes to extreme lengths to prove to Wyatt that he's just as cool as Crash is with occasionally disastrous results. He's also said to have a little crush on
Amanda Bernstein
. Pesto's family owns an arcade and he works there.
History
He first appeared in the first episode, Crash Lands, in his family's arcade. Pesto seems to be embarrassed by Crash and seems to be getting pay checks. In other episodes, Pesto is usually scared of some people and do stuff like hide in the girl's restroom. In episode end he and mik kiss but never know there cousins.
Ad blocker interference detected!
Wikia is a free-to-use site that makes money from advertising. We have a modified experience for viewers using ad blockers

Wikia is not accessible if you've made further modifications. Remove the custom ad blocker rule(s) and the page will load as expected.