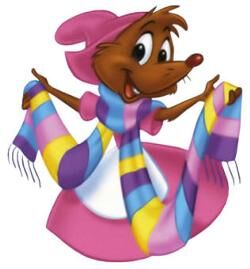 Perla is a minor character featured in the film Cinderella. She is a female mouse who helps Cinderella get ready in the morning and leads the rest of the female mice to make Cinderella's dress. She is voiced by Lucille Williams.
Role in the film
When Jaq and Gus try to help her sew the dress, she defends her territory by saying "Leave the sewing to the women," ordering the two to get decor for the dress, something that they would be better at, since they sneak around the chateau looking for food and watching over Cinderella. Perla's skill at sewing implies that she may have helped Cinderella make the clothing for the other mice to ease her workload. She dresses in light pink and blue in the film. As a character in the theme parks, she dresses in purple. She is close friends with Suzy. Perla is portrayed as kind and helpful. She is also shown to have sass and to be a bit forceful.
Physical Appearance
She is a brown mouse who wears a pink dress.
Gallery