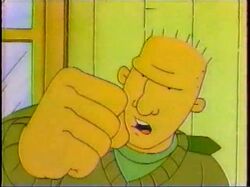 Percy Femur is Mr. Bone's nephew. He is a tall, mean, and tough student. He is known to sport a rat-tail hairstyle, camouflage pants, and army boots. He once bullied Roger until he was sent back to his old school (with the help of Doug). He make a small role in the series, only appearing in the episodes "Doug Saves Roger," "Doug's Big Feat," and "Doug's Hoop Nightmare."
Ad blocker interference detected!
Wikia is a free-to-use site that makes money from advertising. We have a modified experience for viewers using ad blockers

Wikia is not accessible if you've made further modifications. Remove the custom ad blocker rule(s) and the page will load as expected.