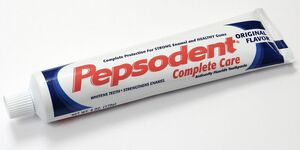 Pepsodent is a brand of toothpaste with a minty flavor derived from Sassafras. The brand is owned by Unilever, but in 2003, the rights to the brand in the United States and Canada were brought by Church and Dwight.
Pepsodent was the official sponsor of the NBC radio series The Mickey Mouse Theater of the Air in 1938.
Gallery
Ad blocker interference detected!
Wikia is a free-to-use site that makes money from advertising. We have a modified experience for viewers using ad blockers

Wikia is not accessible if you've made further modifications. Remove the custom ad blocker rule(s) and the page will load as expected.