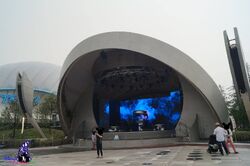 Pepsi E-Stage (Simplified Chinese: E 空间•百事舞台) is a stage in Tomorrowland at Shanghai Disneyland. Engage in the infectious energy and array of activities. Enjoy music, roving entertainment, stage performances, and interactive fun.
Performers List
Baymax Super Exercise Expo
In daytime, guests will get in a quick workout with Hiro Hamada and Baymax from Big Hero 6. Baymax teaches moves like the "Wasabi Arm Chop" and "Go Go Tomago's Leg Skate".

Club Destin-E
Be there at nighttime for all the fun as the stage transforms into an incredible futuristic experience Club Destin-E (Simplified Chinese: E空间聚乐部). where androids, a cybernetic DJ and an anime pop star electrify the night with decades of rock hits and hot dance grooves.
Guardians of the Galaxy: Dance Off (2017 Halloween)
Main article: Guardians of the Galaxy: Awesome Dance Off!
Meet The Incredibles (2018 Summer)
A Meet & Greet with Mr. Incredible and Elastigirl on the stage, in conjunction with the release of the film Incredibles 2.
"This IS Halloween!" Dance Party (2018 Halloween)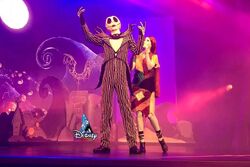 As night falls, join other party animals for a wild dance experience. A just-barely live DJ and party host lead the celebration. Special guests Jack Skellington and Sally from The Nightmare Before Christmas will keep them in the Halloween spirit with appearances throughout the evening, in conjunction with the film's 25th anniversary celebration.

See also
References