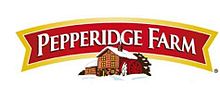 Pepperidge Farm is a commercial bakery in the U.S. founded in 1937 by Margaret Rudkin, who named the brand after her family's property in Fairfield, Connecticut, which in turn was named for the pepperidge tree, Nyssa sylvatica. Although not owned by Disney, their Goldfish brand of crackers sponsored a contest for the 2016 Radio Disney Music Awards.
Ad blocker interference detected!
Wikia is a free-to-use site that makes money from advertising. We have a modified experience for viewers using ad blockers

Wikia is not accessible if you've made further modifications. Remove the custom ad blocker rule(s) and the page will load as expected.