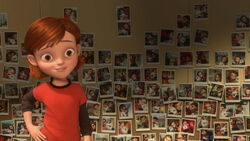 Penny's photos are like souvenirs of Penny and Bolts' "missions" in the Bolt TV show. Each photo is of Penny and Bolt at the end of a mission/episode, with Bolt looking behind him for danger, wondering why their taking pictures or smiling with Penny and some of them have landmarks or explorations in the background.
Background
At the end of each episode Penny clams Bolt down before she takes a picture of them as a "reminder" of their mission(s) together. Once taken she brings him into their trailer to place it with the others: and so the crew could clean up the set. When Bolt went missing Penny used the prevised photo (they took before them went on their last mission) for her "Lost Dog" flyers. One of a few with Bolt not looking over his shoulder for danger that isn't even real and his smiling with her.
After Penny's Mother told her daughter's Agent that "they" quite and started to live a normal life, Penny took a photo of her, (happy and playful) Bolt (with Mr. Carrot in his mouth) and the two newest members of their family: Mittens and Rhino.
Trivia
When Penny got her old photos or lelt them behind in the trailer is unknown.
It's possibly that Penny new photos are now of her playing with Bolt, Mittens and Rhino in the "real world".
Gallery