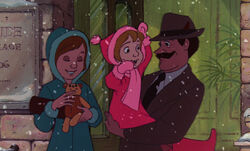 Penny's Adoptive Parents
are characters featured in
Disney
's
1977
animated feature film,
The Rescuers
. They appeared at the end of the film, where they adopt
Penny
.
Role in the film
They only appear in the ending scene, where they adopt Penny as their daughter shortly after she turns the Devil's Eye over to the Smithsonian Institute. Penny's dreams have come true; this also causes the other orphans to feel excited for her. The news covers the adoption as well.
Ad blocker interference detected!
Wikia is a free-to-use site that makes money from advertising. We have a modified experience for viewers using ad blockers

Wikia is not accessible if you've made further modifications. Remove the custom ad blocker rule(s) and the page will load as expected.