Penn Zero is the protagonist of the Disney XD animated series Penn Zero: Part-Time Hero. A student at Middleburg Central High, he also works daily as a part-time hero.
Background
Penn Zero obtained the job as part-time hero when his parents, Brock and Vonnie Zero, found themselves trapped in the "Most Dangerous World Imaginable", with no way to escape but enough experience to stay alive. From then on, he lived with his Aunt Rose and Uncle Chuck, and could communicate with his parents via the Multi Universe Hologram Uplink (MUHU). As a part-time hero working for Phyllis, he is joined by his best school friends Boone and Sashi to hop through dimensions using the Multi Universe Transprojector to foil the plans of his art teacher Rippen and the Principal Larry.
Relationships
His best friend.
In Rip-Penn, Penn loses his temper larry taking about pinwheel story.
Trivia
In Lady Starblaster revealed that Penn is a talented dancer.
In "Zap One", it's revealed that he initially wore a blue-green sweater before he had his trademark shirt and fake chain mail mesh, which were gifts that he found from his parents after his first mission. Moreover, his MUHU was also a gift from them.
Gallery
v - e - d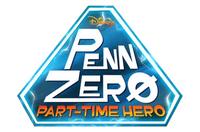 Locations
Middleburg • Middleburg Central High • The Odyssey • Fish Stick on a Stick • Knight World • North Pole • Superhero World • Arabian World • Plush Toy World • Chuckle City • Big Butte • Space World • Ocean World • Musical Fairy Tale World • Caveman Spy World • Alien World • Dragon Flight School • Plantywood • Most Dangerous World Imaginable • Least Dangerous World Imaginable
Objects
Multi-Universe Hologram Uplink • Multi-Universe Transprojector • Pigoilet • The QPC Unit • Vortex Tops • Specs