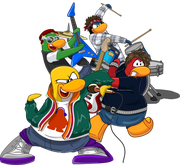 The Penguin Band (also known as The Club Penguin Band)  is a very popular band of mascots in Club Penguin. The Club Penguin Band is Club Penguin's most popular and official band. It is made up of four Penguins: G Billy, Petey K, Stompin' Bob and Franky. Like Rockhopper, the band members can be seen during certain parties on random servers signing autographed backgrounds and talking to Penguins. They are the only official band known in Club Penguin. It should be noted that the Penguin Band are not always together when on the island as they can be met individually.
Ad blocker interference detected!
Wikia is a free-to-use site that makes money from advertising. We have a modified experience for viewers using ad blockers

Wikia is not accessible if you've made further modifications. Remove the custom ad blocker rule(s) and the page will load as expected.