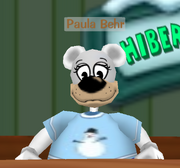 Paula Behr is a Toon NPC Bear who runs Hibernation Vacations in Polar Place, The Brrrgh in Toontown Online. Unlike most Toons, Paula is a white bear.
Trivia
Her name comes from the animal from the arctic region, the polar bear.
It is unknown what her natural Toon color is, or if she is an actual polar bear.
When Toons visit her building, they are capable to turn big and white for 1 hour.

The effect only works in The Brrrgh.