Ad blocker interference detected!
Wikia is a free-to-use site that makes money from advertising. We have a modified experience for viewers using ad blockers

Wikia is not accessible if you've made further modifications. Remove the custom ad blocker rule(s) and the page will load as expected.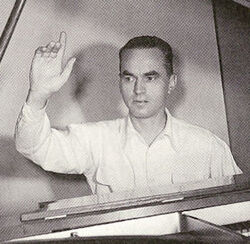 Paul J. Smith (October 30, 1906 - January 25, 1985) was an Academy Award-winning American music composer. He was born in Calumet, Michigan. Smith spent much of his life working at Disney as composer for many of its films' scores, animated and live-action alike, movie and television alike (from 1962 to 1963, he also composed music for Leave It to Beaver). In Fantasia, he is one of the studio employees in the orchestra. He also composed the scores for several of the True-Life Adventures episodes. His main collaborator and partner was Hazel "Gil" George. She wrote the song title for The Light in the Forest with him and Lawrence Edward Watkin. Smith also did the stock music for the Blondie series of the late 1940s and early 1950s. He won an Academy Award for Best Original Score for Pinocchio. He died in Glendale, California at age 78.
In 1994, he was posthumously honored as a Disney Legend.
Animation scores
Live-action scores (not counting TV)
Glamour Girl, 1948
The Strange Mrs. Crane, 1948
Love Happy, 1949
In Beaver Valley, 1950 includes "Jing-a-Ling", lyrics added by Don Raye
Pecos River, 1951
About Face, 1952
Water Birds, 1952
The Living Desert, 1953
The Vanishing Prairie, 1954
Secrets of Life, 1956
Westward Ho, the Wagons!, 1956
Perri, 1957
The Light in the Forest, 1958
The Shaggy Dog, 1959
Pollyanna, 1960
Swiss Family Robinson, 1960
The Parent Trap, 1961
Moon Pilot, 1962
Bon Voyage!, 1962
Yellowstone Cubs, 1963
Ida the Offbeat Eagle, 1964
External links
| | |
| --- | --- |
| | This page uses content from the English Wikipedia. The article or pieces of the original article was at Paul Smith (composer). The list of authors can be seen in the page history. As with Disney Wiki, the text of Wikipedia is available under the GNU Free Documentation License. |