Ad blocker interference detected!
Wikia is a free-to-use site that makes money from advertising. We have a modified experience for viewers using ad blockers

Wikia is not accessible if you've made further modifications. Remove the custom ad blocker rule(s) and the page will load as expected.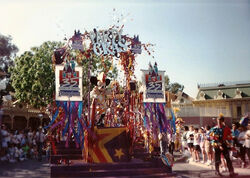 The Party Gras Parade is a Disneyland parade that ran from January 11, 1990 up to November 18, 1990. It only ran in 1990 to represent Disneyland's 35th anniversary. The parade includes floats of Mickey Mouse, Minnie Mouse, Goofy, Donald Duck, Pluto, and Roger Rabbit.
The parade ran the same at Tokyo Disneyland from 1991 to 1993, but didn't appear identical. So the character floats were arranged in a different order, the balloons were different and a new Mickey balloon was added. Roger Rabbit wasn't even included in the Tokyo version.
The parade at Walt Disney World's Magic Kingdom based on the parade was Called 20th anniversary Surprise Celebration Parade. that represented WDW's 20th anniversary.
Disneyland Version

Starting float with Mickey Mouse on with Sorcerer Mickey balloon follwed by (celebration) donald duck on a drum balloon.
float with lion along with jester head, jester float, another jester head and goofy (sweater) balloon (goofy is on the float)
float with performers and a fish and crab floats and pluto (on drum) balloon (donald is on the float), at the back is a float with Roger Rabbit on.
Eagle float (Minnie is on this float) and minnie mouse (fruit suit) balloon and Roger Rabbit (on drum) balloon end the parade.
the parade ends with Tigger on a float that looks identical to the 1st float.
Tokyo Disneyland Version

Donalds Unit: Starting float with Donald, Daisy, and Scrooge, followed by donald duck (wearing a party hat and stary suit) Balloon on a drum
Goofys Unit: Giant jester float with goofy on it, followed by goofy (wearing a party hat and stary suit) balloon and a crab float.
Mickeys Unit: A water carnival unit with mickey and performers, A New Mickey Balloon (he is sitting on a drum) follows it. then a Giant shell float comes next and More performers on a float.
Plutos Unit: The Pluto Balloon is the only float in this unit, pluto balloon (wearing a Flower Lei and is sitting on a drum) with pluto on it.
Minnies Unit: A Pineapple float with Minnie on it, then followed by Minnie's Balloon (Identical to the disneyland version, but a little different.). then there is the final float with chip and dale on it.
Gallery
Show Mode
The floats would stop and do a show mode on the route and most of the balloons would rotate. in the usa edition, when the parade stopped at main street, people would set off confetti cannons from the roofand they would fall all over the floats.
Fun facts