"Parley? Damn to the depths whatever muttonhead thought up 'parley'!"
"That would be the French."
―Pintel and Jack Sparrow
Parley is a discussion or conference, especially one between enemies over terms of a truce or other matters. For example, in Julius Caesar (a tragedy by William Shakespeare), the respective followers and armies of Brutus and Antony are ready for a truce. The root of the word parley is parler, which is the French verb "to speak"; specifically the conjugation parlez "you speak", whether as imperative or indicative. Beginning in the High Middle Ages with the expansion of monarchs, a parley, or "talk", was a meeting held between kings and their Chief Retainers. Parleys were part of the many changes in Europe, especially regarding governments. These meetings can be attributed to the formation of parliaments, which are derived from a similar root, parliamentum, simply meaning "talking".
Appearances
TV appearances
In The Cricket Game, the evil Queen Regina surveys a scene of destruction and learns that King George and his army have been defeated by the forces of Snow White and Prince Charming, and that Snow is now traveling to reunite with Charming. The Queen orders her soldiers to keep them apart long enough for her to find Snow. Later, she confronts Snow in the forest, and rejects Snow's offer of parley, instead demanding Snow's death. It turns out to be a trap (though the offer of parley was genuine and Snow was prepared to accept the Queen's surrender); the Blue Fairy launches an attack on the Queen and magically binds her.
Films
In The Curse of the Black Pearl, the term "parlay" was known as part of the Pirate's Code set down by pirates Morgan and Bartholomew, allowing anyone to be taken to negotiate with the captain of their ship to negotiate without being attacked until the parley is complete. Elizabeth Swann, threatened by Pintel and Ragetti, invoked the right of parley during the attack on Port Royal and was taken aboard the Black Pearl to meet with Captain Barbossa. The parley ended with Elizabeth being held captive by Barbossa, who said the Code were "guidelines" instead of rules. When spotted at Isla de Muerta, Jack Sparrow, with the assistance of Ragetti, invoked the right of parley to Barbossa's crew.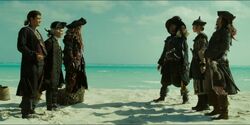 In At World's End, Cotton's Parrot said "parley" when Jack the Monkey pulled a pistol on him, shortly after the Black Pearl escaped from Davy Jones' Locker. Later, Captain Jack Sparrow called for a parley after Cutler Beckett's armada arrived, outnumbering the pirates. The parley took place on a sandbar, in which Jack Sparrow was traded with Will Turner in order to supplement his debt to Davy Jones.
Video games
In Kingdom Hearts II, there was a parley between Luxord, Sora, Donald, Goofy and Jack Sparrow at Port Royal.
| | |
| --- | --- |
| | This page uses content from the English Wikipedia. The article or pieces of the original article was at Parley. The list of authors can be seen in the page history. As with Disney Wiki, the text of Wikipedia is available under the GNU Free Documentation License. |