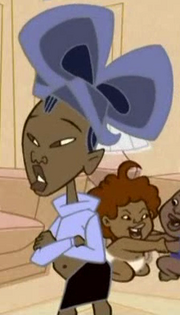 Paprika
is one of
Dijonay
's sisters. Like her other brothers and sisters, she is wild and loud-mouthed. She and her siblings, along with BeBe and CeCe, mess around with the limo carrying 3rd Storee, Penny forces her and the others to apologize to the limo driver, which gives them a chance to catch a ride with 3rd Storee. After arriving at the concert, she and her siblings act like they don't know Dijonay because she ditched them for a ticket.
One time, she is shown to be one of the few children, along with her other siblings, that her eldest sister, Dijonay, Penny, and their friends, working as junior counselors, watch over during their 3-day camping trip. As instructed by Tory, she is told to deliver a note to Jenny but accidentally mixes it with Penny's name since both names rhyme. In the end, she becomes Peabo's new girlfriend especially after how she likes him in his new elevating shoes, which make him look taller.
Another time is when she is shown with Dijonay and her other siblings at Penny's mother, Trudy's clinic trying to get an autograph from one of the clients especially after her older sister, Tabasco recognizes her as the famous R&B singer, Mariah Carey.
After the Chang Triplets switch with Dijonay's family for a cultural project, Paprika and her siblings wrestle them for fun while their parents, who left the triplets in charge as baby-sitters, are out at the movies (believed to be out shopping for groceries).
Gallery