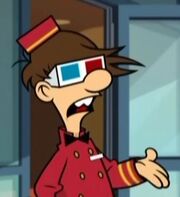 Pantsy
is one of the ushers at the local movie theater. He always has his 3D glasses on, and when not in uniform wears a simple hoodie. He only appears in a few episodes, and is always assisting
Brad
when he does. He is a son of the 2nd assistant security guard at Mellowbrook Mall. He is known for taking his job at the movie theatre far too seriously, kicking out practically everyone for minor infractions (including his younger brother Mouth and Kick).
He is a 15 year old sidekick of Brad. He and Horace aren't really care about Kick and Gunther's rivally (example in "Love Stinks!" he loses Brad and asks Kick to help Horace and him get Brad back and Kick agrees with them and helps them and in "Pool Daze" Kick helps Horace and Pantsy to cool off and in "Last Fan Standing" he and Horace are shown as being Kick's fans.
Ad blocker interference detected!
Wikia is a free-to-use site that makes money from advertising. We have a modified experience for viewers using ad blockers

Wikia is not accessible if you've made further modifications. Remove the custom ad blocker rule(s) and the page will load as expected.