Pan Galactic Pizza Port is a restaurant at Tokyo Disneyland. It is located at Tomorrowland and opened in conjunction with the original Star Tours attraction.
Summary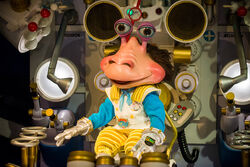 The restaurant offers counter service and serves mainly pizza where there are two varieties of pizza; chicken and vegetable, or sausage and mushroom, both served by a slice. There are also a few side dishes, the most notable which is seafood salad, where the prominent ingredients are octopus and seaweed. The restaurant is built around a giant, animated pizza-making machine run by a colorful alien named Tony Solaroni from the Spumoni galaxy.
The pizza-making PZ-5000 machine features an entertainment event every few minutes which may feature a futuristic television commercial for the Pizza Port, or a phone call from Tony's equally alien wife, or the pizza-making machine going berserk. All the events are accompanied by animations on the group of television sets just above Tony Solaroni's head. The restaurant has a capacity of 590 seats, guests have a choice to sit indoors or outdoors.
Video