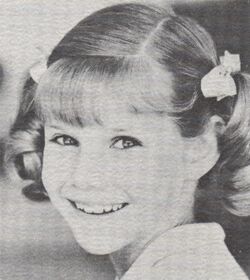 Pamelyn Ferdin (born February 4, 1959) is a former American television and film child actor who grew up in Los Angeles, California.
Her only work for Disney included the roles of Laura Bower in The One and Only, Genuine, Original Family Band, for which she won a 1968 Critics Award from Film Daily for Best Performance by a Juvenile Actress in a Motion Picture, and Susie in the Wonderful World of Disney episode "Smoke".
She also appeared with Walt Disney in a 1966 advertisement for RCA color televisions.
Ad blocker interference detected!
Wikia is a free-to-use site that makes money from advertising. We have a modified experience for viewers using ad blockers

Wikia is not accessible if you've made further modifications. Remove the custom ad blocker rule(s) and the page will load as expected.