Ad blocker interference detected!
Wikia is a free-to-use site that makes money from advertising. We have a modified experience for viewers using ad blockers

Wikia is not accessible if you've made further modifications. Remove the custom ad blocker rule(s) and the page will load as expected.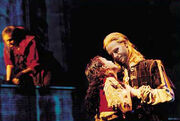 "
Weil du liebst (Reprise)
(
Out Of Love (Reprise))
" Esmeralda & Phoebus are in love and Quasimodo gets the shaft. So after Phoebus and Quasimodo warn the Gypsies, Phoebus and Esmeralda decide to leave Paris together. While Esmeralda and Phoebus declare their love Quaismodo watches them heartbroken.
The song gives Phoebus and Esmeralda a love song which was sorely missed from the movie but in this song the love story has a complexity. Neither of them ever envisioned being in love. The song also works to contrast against Quasimodo's heartbreak better than in the movie. In the movie Phoebus and Esmeralda kiss and Quasimodo thinks of Heaven's Light and he rips up an Ace of Hearts playing card. In this song Quasimodo pain is more felt though his singing. But then against Quasimodo in the show is a bit more angry and less "boyish". However the presentation of Phoebus and Esmeralda singing lovingly against Quasimodo's pain could have worked in the movie as the focus doesn't leave Quaismodo which was very important from the Disney movie directors and it doesn't kill the pace as they sing this before fleeing which makes more sense than a wedding.
Lyrics
ESMERALDA:
This should be the saddest night of my life
Lost my home and new-found family too
Things looked black as can be
Then miraculously
All at once I found a home
Anew, in you...

QUASIMODO:
I knew I'd never know
That warm and loving glow
Though I might wish with all my might
No face as hideous as my face
Was ever meant for Heaven's light...

ESMERALDA / PHOEBUS:
In this place of miracles
Here's the strangest wonder yet

QUASIMODO:
Once more, this pain...

ESMERALDA / PHOEBUS:
I've gone solo all of my life
Now I'm part of this duet

QUASIMODO:
I've gone solo all my life
Solo I remain

ESMERALDA:
What a stunning turnabout

PHOEBUS:
Gypsy's hand in soldier's glove

QUASIMODO:
I'm still the crown prince of outcasts

ESMERALDA / PHOEBUS:
Outcasts ready to be cast out

PHOEBUS:
If we're never out of love

ESMERALDA:
All we've done is out of love

QUASIMODO:
I'm doomed to live forever...

ALL THREE:
Out of love