Ad blocker interference detected!
Wikia is a free-to-use site that makes money from advertising. We have a modified experience for viewers using ad blockers

Wikia is not accessible if you've made further modifications. Remove the custom ad blocker rule(s) and the page will load as expected.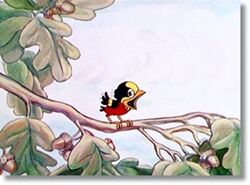 Otto is a newborn baby bird who decides his nest is too small in the 1933 Silly Symphony, "Birds in the Spring". He goes out to investigate the world and finds the world is more dangerous than he suspected.