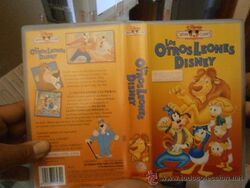 Los Otros Leones Disney (Other Disney Lions) is a Spanish Movie composed by shorts starring lions:
List of shorts
Lion Around
Lion Down
Father's Lion
Pluto at the Zoo
Hook, Lion and Sinker
Social Lion
Background Information
This movie was launched due to the enormous sucess of "The Lion King"[1]
There was also an english version named "Lion Crazy"[2]
References
Ad blocker interference detected!
Wikia is a free-to-use site that makes money from advertising. We have a modified experience for viewers using ad blockers

Wikia is not accessible if you've made further modifications. Remove the custom ad blocker rule(s) and the page will load as expected.