Oswidge is a character from the TV series Dave the Barbarian.
History
He is Dave, Fang and Candy's uncle, likely on Glimia's side of the family, though this is based solely on appearance. A rather clumsy sorcerer who usually wreaks havoc with his spells rather than being useful. It was revealed in the episode "Sorcerer Material" that he never really went to sorcerer school, he just worked in the cafeteria.
Uncle Oswidge loves to eat and presents a rather unkempt appearance. Like his niece Fang, he secretly likes to play with dolls. His favorite foods are ham and "Nut Logs" - he cannot resist them. His knowledge of magic and magical items, and most other things, surpasses the rest of the family.
Gallery
v - e - d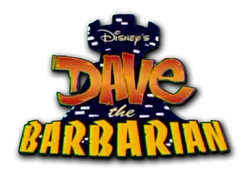 Locations
Udrogoth • Great Indoor Marketplace • Sorcery School • Hyrogoth
Ad blocker interference detected!
Wikia is a free-to-use site that makes money from advertising. We have a modified experience for viewers using ad blockers

Wikia is not accessible if you've made further modifications. Remove the custom ad blocker rule(s) and the page will load as expected.