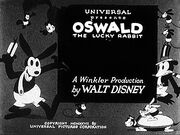 The Oswald the Lucky Rabbit series was created by
Ub Iwerks
and
Walt Disney
between
1927
and
1928
under the
Universal Studios
banner. It consists of 26 black and white Shorts starring
Oswald the Lucky Rabbit
.
History
After the Alice Comedies, Disney's second animated series (after the Laugh-o-Grams) folded in 1927, Carl Laemmle approached Disney and requested a new, all-animated series featuring a rabbit. Disney and Ub Iwerks created a new character entitled "Oswald the Lucky Rabbit". The first Oswald cartoon, Poor Papa, was poorly received by Charles Mintz and demanded a better, younger version of Oswald. The next cartoon, Trolley Troubles, was well received, and the series officially launched.
In 1928, with the series going strong, Disney demanded a raise from Mintz, which he refused. Mintz instead told Disney that he was going to cut the budget, and if Disney did not agree to the cut, Mintz would take over Oswald for himself. Disney refused, and most of Disney's employees left for Mintz. Only Ub Iwerks remained, and the two secretly planned out a cartoon featuring their new character, Mickey Mouse.
Disney's Oswald shorts
1927
1928
Gallery
External links
Oswald's page with list of Oswald shorts on The Encyclopedia of Disney Animated Shorts
Ad blocker interference detected!
Wikia is a free-to-use site that makes money from advertising. We have a modified experience for viewers using ad blockers

Wikia is not accessible if you've made further modifications. Remove the custom ad blocker rule(s) and the page will load as expected.