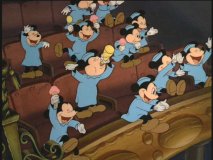 The Orphans are an unruly group of children (always looking like a younger Mickey Mouse) for whom the gang are always trying to help out in the form of shows, picnics, etc. The gang's philanthropy, however, is usually not returned in the same spirit.
Filmography
Gallery
Ad blocker interference detected!
Wikia is a free-to-use site that makes money from advertising. We have a modified experience for viewers using ad blockers

Wikia is not accessible if you've made further modifications. Remove the custom ad blocker rule(s) and the page will load as expected.