Orange Bird
Comments

3
29,248pages on
this wiki
Orange Bird
Background information
Feature films
Television programs
Video games
Park attractions
Portrayed by
Portrayed by
Animators
Voice
Performance model
Designer
Inspiration
Honors and awards
Character information
Full name
Other names
Personality
Cute, caring, fun-loving, sensitive
Appearance
Orange-colored bird, orange head, green leaf wings
Birthday
Occupation
Alignment
Affiliations
Alignment
Goal
Home
The Sunshine Tree
Relatives
Pets
Allies
Anita Bryant, Mickey and Friends
Minions
Enemies
Likes
Dislikes
Powers and abilities
Weapons
Fate
Quote
[Source]
The Orange Bird is a character created by Disney for the Florida Citrus Commission as a mascot and was a prominently featured character in the Magic Kingdom's Adventureland at the Sunshine Tree Terrace located near Tropical Serenade.
History
The Orange Bird was created in 1970 as a mascot for the Florida Citrus Commission in exchange for them sponsoring the Tropical Serenade attraction in the Magic Kingdom. Accompanied by singer Anita Bryant, the two appeared in ads for Florida oranges and Bryant narrated a record album telling the character's story. Eventually, the bird would fade into obscurity when Disney and the FCC severed their ties in 1987.
Years later, at Tokyo Disneyland in 2004, the Orange Bird would experience a revival as the Japanese became infatuated with the character and the character received a lot of merchandising to coincide with Japan's annual Orange Day on April 14. The Orange Bird has since returned in merchandising to Walt Disney World in time for the 40th anniversary of the resort and the character. Eventually, on April 17, 2012, the Orange Bird made a proper return to the Sunshine Tree Terrace.
Personality
Unlike other birds, the Orange Bird is incapable of singing or speaking and instead communicates with orange-colored thought bubbles. He is mocked by other birds as a result and Orange Bird generally looks for friends wherever he goes.
Appearances
Disney Parks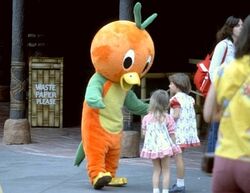 The Orange Bird also appeared in Walt Disney World's Magic Kingdom as a walk-around character during the resort's first decade. He would often be found roaming Adventureland, outside the Enchanted Tiki Room. A figure of the character was also perched in a spot behind the counters of the Sunshine Tree Terrace, something which has since been restored to the location after having spent years in the Disney Archives.
"The Story of the Orange Bird" book
Gallery