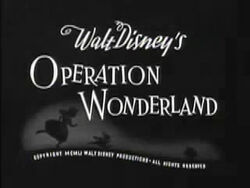 Operation Wonderland is a 1951 short promotional featurette featuring behind-the-scenes footage on the making of Walt Disney's then-upcoming animated feature, Alice in Wonderland, that aired as part of the Ford Star Revue on June 14, 1951. Narrated by James Melton for his daughter Margo, the featurette goes through the basics of the production and even shows some of the live-action reference footage shot for the animators.
Gallery
Ad blocker interference detected!
Wikia is a free-to-use site that makes money from advertising. We have a modified experience for viewers using ad blockers

Wikia is not accessible if you've made further modifications. Remove the custom ad blocker rule(s) and the page will load as expected.