Ad blocker interference detected!
Wikia is a free-to-use site that makes money from advertising. We have a modified experience for viewers using ad blockers

Wikia is not accessible if you've made further modifications. Remove the custom ad blocker rule(s) and the page will load as expected.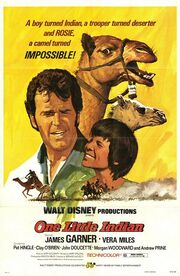 One Little Indian is a 1973 western Walt Disney movie starring James Garner and Vera Miles. The supporting cast includes Pat Hingle, Jay Silverheels, and features an 11-year-old Jodie Foster. The film was written by Harry Spalding and directed by Bernard McEveety.
Plot
In the middle of an Indian raid, a cavalry rider goes AWOL in order to save the lives of the Native American women and children. Later, when he is crossing the desert in New Mexico on a camel, he meets a white boy who was raised by an Indian and is trying to find his tribe, and the two travel on together.
Cast
James Garner as Cpl. Clint Keyes
Vera Miles as Doris McIver
Pat Hingle as Capt. Stewart
Morgan Woodward as Sgt. Raines
John Doucette as Sgt. Waller
Clay O'Brien as Mark
Robert Pine as Lt. Cummins
Bruce Glover as Schrader
Ken Swofford as Pvt. Dixon
Jay Silverheels as Jimmy Wolf
Andrew Prine as Chaplain John Kaplan
Jodie Foster as Martha McIver
Walter Brooke as The doctor
Rudy Diaz as The Apache
John C. Flinn II as Cowboy (as John Flinn)
Gallery