"
Once Upon a Timon
" is the 43rd episode of
Timon and Pumbaa
, and the first of the only two half-hour episodes of the series.
Synopsis
Part One
Zazu informs Rafiki about Simba's royal reputation being at stake, and is a bit concerned about Timon and Pumbaa. He had just given them a proper form, which they returned, now cut into a sign that says "Hakuna Matata". And because he knows about Pumbaa's being an outcast (due to his odor), Zazu has yet to know about Timon's being an outcast. Rafiki then tells Zazu the story of what happened.
The story begins in a meerkat colony. The Duke Meerkat is going out to perform some royal duties, leaving Fred in charge of guarding the castle, and his daughter, Tatiana, at home alone. Timon, meanwhile, guards the back gate of the colony, which nobody ever goes through unless they are banished, and minds his own business while thinking about Tatiana. Meanwhile, Fred informs Timon that the Duke is gone for the day, and that Tatiana is alone. Timon doesn't think that he and she would go out, and that she needs a brave, cunning, resourceful meerkat. Fred then tells him that all Timon needs to impress her is with candy and flowers (and a bath). Timon vetoes the idea, saying that if he abandons his guard post, he'd be banished. But as Fred sees it, not if Timon doesn't get caught, and he later returns to his post at guarding the castle. Timon thinks about what Fred says and, seeing that he was right, places a mop as a dummy in place of his spot at guarding the back gate, and gets into the colony to buy some candy and flowers for Tatiana.
Little does he know that a cobra has seen that the back gate was unprotected and as Timon is going home to get ready for his date with Tatiana, the cobra goes into the colony to take Tatiana away. This saddens the entire colony, even the Captain of the Guard (whose main duty is to also guard the front gate), but he denies it, however, saying that the cobra didn't go through the front gate to capture Tatiana. After Fred says that nobody goes through the back gate, the Captain senses that Timon isn't with the other guards, and asks where he is.
Timon, getting out of his house, finally ready for his now-canceled date, is shocked at the colony's suspicions, and, after a nervous giggle, he runs off, with the guards giving chase. Timon runs into a dead end after facing the Duke, and is put on trial for abandoning his guard post. The jury finds Timon guilty for that, and Timon is sentenced to live in banishment, cast out of the colony.
Rafiki attempts to end the story, but Zazu wants to know more about what happened to Timon, how he met Pumbaa, and about Tatiana. Rafiki reminds Zazu that Zazu has important business with Simba, but the hornbill thinks it can wait a little longer, and asks Rafiki to tell the rest of the story.
Part Two
After Zazu demands to know the rest of the story, Rafiki continues.
Lost and alone, Timon begins to feel scared while walking around a shadow-filled jungle. He then gasps at the sound of burping, and finds himself inside the mouth of Ed the hyena. He runs out of Ed's mouth and runs into Pumbaa, who was captured by the hyenas. Pumbaa, having been tricked, asks Timon if they invited him over for dinner too. Shenzi, Banzai and Ed gang up on them, joking that they'll have a little "'kat"-nip, and then that they'll "pig" out (a wordplay on the types of creatures Timon and Pumbaa are). Timon and Pumbaa make a run for it, away from the hyenas, and they say their goodbyes and go their separate ways.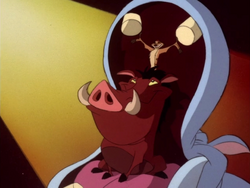 The next morning, while hunting for breakfast, Timon and Pumbaa run into each other again, with the latter asking the former if he was going to the colony. After noticing that their breakfast is getting away, they introduce each other, and finally catch the bug. However, after Timon hears Pumbaa's breaking-wind, Pumbaa, breaking into song, tells Timon how he feels when other animals tell him to go away, and that he's a loner. Timon tells Pumbaa that he is banished from his colony and stranded, and thinks that in a cold and mean world, the two of them should be "Alone Together", that two heads are better than one. Pumbaa hears what Timon is saying correctly, and that they should become the "bestest of friends".
After singing, Pumbaa decides to be Timon's friend over anything he could ever want. Timon feels the same way. However, later, Timon hears Tatiana's cries for help while about to become a sacrifice for the cobra. Pumbaa feels that once Timon saves her, the warthog would be alone again, but Timon disagrees, saying that once he rescues Tatiana, Pumbaa would join the colony, and that he would no longer be an outcast. Pumbaa is overjoyed by this, and the two of them rescue Tatiana.
Later, after seeing that Tatiana is saved by Timon, the colony opens the front gate in joyous celebration. At the trial, all charges against Timon are dropped for the brave, cunning, resourceful rescue of Tatiana, and as an added bonus, the Duke offers Timon the key to the city, and Tatiana offers her hand to him in marriage. After Pumbaa reminds him, Timon asks the Duke to declare Pumbaa a member of the colony--but the Duke says that only meerkats are allowed to live in the colony, and gives Timon a choice between anything he could ever want (power, riches and love) or being Pumbaa's friend.
Rafiki interrupts the story, saying that Zazu could go see Simba at any time now. Zazu, however, wants to hear the end of the story, and feels that Simba should "have his diaper changed". Little does Zazu know that Simba has overheard, and wants to know the end of the story as well.
Rafiki concludes the story, saying that Timon chose to be Pumbaa's friend. From that day forward, Timon decided they shouldn't worry anything, and Pumbaa gave this philosophy a name: "Hakuna Matata".
Trivia
The title of this episode is a pun on "Once upon a time."
Although Tatiana did not appear after this episode, what looks like her with red hair appears in "Timon in Love" in a cameo.
This is also the first time that a song, being "Alone Together", was featured in an episode. The other time was in "Jungle Slickers". The other three songs, "The Lion Sleeps Tonight", "Stand by Me", and "Yummy, Yummy, Yummy" are featured as time fillers after the episodes "Brazil Nuts/South Sea Sick", "Don't Break the China/Can't Take a Yolk", and "Madagascar About You/Truth or Zaire".
This episode reveals Timon's origin, how he came to be a wandering loner, and how he first met Pumbaa, although The Lion King 1½ contradicted this episode.
v - e - d
Episodes
Timon & Pumbaa
Season One: "Boara Boara" • "Saskatchewan Catch" • "Kenya Be My Friend?" • "Good Mousekeeping" • "Brazil Nuts" • "South Sea Sick/The Lion Sleeps Tonight" • "Never Everglades" • "Cooked Goose" • "Yukon Con" • "Doubt of Africa" • "How to Beat the High Costa Rica" • "Swiss Missed" • "Russia Hour" • "You Ghana Join the Club" • "Uganda Be an Elephant" • "To Kilimanjaro Bird" • "Rocky Mountain Lie" • "Amazon Quiver" • "French Fried" • "Big Top Breakfast" • "Madagascar About You" • "Truth or Zaire/Yummy, Yummy, Yummy" • "Mojave Desserted" • "Beauty and the Wildebeest" • "Don't Break the China" • "Can't Take a Yolk" • "Stand by Me" • "The Pain in Spain" • "Frantic Atlantic" • "Unlucky in Lesotho" • "Rafiki's Apprentice" • "Tanzania Zany" • "Guatemala Malarkey" • "Mombasa-In-Law" • "TV Dinner" • "Back Out in the Outback" • "Gabon with the Wind" • "Timon's Time Togo" • "The Law of the Jungle" • "Manhattan Mishap" • "Paraguay Parable" • "Be More Pacific" • "Going Uruguay" • "Let's Serengeti Out of Here" • "Congo on Like This" • "Okay Bayou?" • "Shake Your Djibouti" • "Yosemite Remedy" • "The Sky is Calling" • "Mozam-Beaked" • "Ocean Commotion"
Season Two: "Palm Beached" • "Jamaica Mistake?" • "Oregon Astray" • "New Guinea Pig" • "Isle of Manhood" • "Puttin' on the Brits" • "Klondike Con" • "Isle Find Out" • "Beetle Romania" • "Rumble in the Jungle" • "Wide Awake in Wonderland" • "Zazu's Off-by-One Day" • "Animal Barn" • "Roach Hotel" • "Africa-Dabra!" • "I Don't Bolivia" • "Shopping Mauled" • "Library Brouhaha" • "Catch Me if You Kenya" • "Scent of the South" • "Monster Massachusetts" • "Handle with Caribbean" • "Forbidden Pumbaa" • "Washington Applesauce" • "Alcatraz Mataz" • "Oahu Wahoo" • "I Think I Canada" • "Zazu's Off Day Off" • "Beast of Eden" • "Sense & Senegambia" • "Timon on the Range" • "The Man from J.U.N.G.L.E." • "Maine-Iacs" • "Fiji-Fi-Fo-Fum" • "Rome Alone" • "Amusement Bark" • "Once Upon a Timon" • "Home is Where the Hog Is" • "Beethoven's Whiff" • "Bumble in the Jungle" • "Mind Over Matterhorn"
Season Three: "Whiff" • "To Be Bee or Not to Be Bee" • "Luck Be a Meerkat" • "Just When You Thought You'd Cuisine it All" • "Lemonade Stand Off" • "Big Jungle Game" • "Boo Hoo Bouquet" • "So Sumo Me" • "Now Museum, Now You Don't" • "Visiting Pig-nitaries" • "The Truth About Kats and Hogs" • "Escape from Newark" • "Truth Be Told" • "Circus Jerks" • "Nest Best Thing" • "Super Hog-O" • "Don't Have the Vegas Idea" • "Hot Enough for Ya?" • "Werehog of London" • "Bigfoot, Littlebrain" • "Astro-Nots" • "Robin Hoodwinked" • "Seregenti Western" • "All Pets are Off" • "Two for the Zoo" • "The Swine in the Stone" • "You May Have Already Won Six Million Bakra" • "My Meteor, My Friend" • "Jungle Slickers" • "Don't Wake the Neighbear" • "Recipe for Disaster" • "Going Over-Boar'd" • "Ivy Beleaguered" • "Broadway Bound & Gagged" • "Steel Hog" • "Dealer's Choice Cut" • "Space Ham" • "You Bet Your Tukhus" • "No-Good Samaritan" • "Living in De Nile" • "One Tough Bug" • "Pirates of Pumbzance" • "Miss Perfect" • "Hakuna Matata U." • "Pig-Malion" • "Why No Rhino" • "War Hogs" • "The Big No Sleep" • "Common Scents" • "Mister Twister" • "Don't Be Elfish" • "Lights, Camera, Traction" • "The Running of the Bullies" • "Special Defects" • "Wishy Washy" • "Ice Escapades" • "Guru-Some" • "Jailhouse Shock" • "Nearly Departed" • "Early Bird Watchers" • "The Spy's the Limit" • "Ready, Aim, Fire" • "Timoncchio" • "Ghost Boosters" • "Stay Away from my Honey!" • "Sitting Pretty Awful" • "He's a Bad, Bad, Bad Sport" • "Dapper Duck Burgers" • "It Runs Good" • "Hot Air Buffoons" • "Timon in Love" • "Kahuna Potato" • "Mook Island" • "Cliphangers"
The Lion Guard
Season One: "Never Judge a Hyena by its Spots" • "The Rise of Makuu" • ""Bunga the Wise" • "Can't Wait to be Queen" • "Eye of the Beholder" • "The Kupatana Celebration" • "Fuli's New Family" • "The Search for Utamu" • "Follow That Hippo!" • "Call of the Drongo" • "Paintings and Predictions" • "The Mbali Fields Migration" • "Bunga and the King" • "The Imaginary Okapi" • "Too Many Termites" • "The Trouble With Galagos" • "Janja's New Crew" • "Baboons!" • "Beware the Zimwi" • "Lions of the Outlands" • "Never Roar Again" • "The Lost Gorillas" • "The Trail to Udugu" • "Ono's Idol" • "Beshte and the Hippo Lanes" • "Ono the Tickbird"
Season Two: "Babysitter Bunga" • "The Savannah Summit" • "The Traveling Baboon Show" • "Ono and the Egg" • "The Rise of Scar" • "Let Sleeping Crocs Lie" • "Swept Away" • "Rafiki's New Neighbors" • "Rescue in the Outlands" • "The Ukumbusho Tradition" • "The Bite of Kenge" • "Timon and Pumbaa's Christmas" • "The Morning Report" • "The Golden Zebra" • "The Little Guy" • "Divide and Conquer"