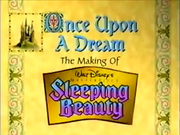 Once Upon a Dream: The Making of Sleeping Beauty is a behind-the-scenes documentary narrated by Corey Burton on the making of Sleeping Beauty. It was originally made to commemorate the film's restored VHS release, and was included with the film's subsequent VHS and Laserdisc releases and the original "Special Edition" DVD. This was replaced and upgraded on the film's Platinum Edition with "Picture Perfect: The Making of Sleeping Beauty. "The special was made in 1997 by TV is OK Productions. It was written by Jeff Kurtti.
Interviewees
Frank Armitage
Michael Giaimo
Gallery
Ad blocker interference detected!
Wikia is a free-to-use site that makes money from advertising. We have a modified experience for viewers using ad blockers

Wikia is not accessible if you've made further modifications. Remove the custom ad blocker rule(s) and the page will load as expected.