Ad blocker interference detected!
Wikia is a free-to-use site that makes money from advertising. We have a modified experience for viewers using ad blockers

Wikia is not accessible if you've made further modifications. Remove the custom ad blocker rule(s) and the page will load as expected.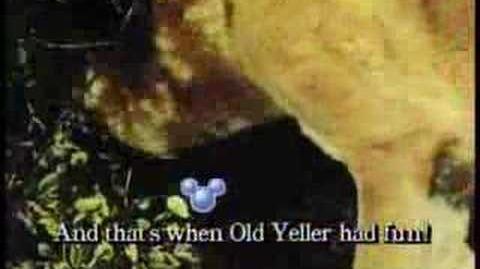 "Old Yeller" is the title song of the 1957 film of the same name. This song is on the 3rd disc of The Music of Disney: A Legacy in Song and in the VHS Disney Sing Along Songs: The Bare Necessities.
Opening Lyrics
Old Yeller
Old Yeller
Old Yeller
Here, Yeller
Come back Yeller
Best doggone dog in the west

Old Yeller was a mongrel
An ugly lop-eared mongrel
Fancy free without a family tree
But he coult up and do it
And prove there's nothin' to it
And that's how a good dog should be

Here, Yeller
Come back Yeller
Best doggone dog in the west
Best doggone dog in the west

Old Yeller was a hunter
A rarin', tearin' hunter
And then he chased he knew just how to run
And when he hunted trouble
He always found it double
And that's when Old Yeller had fun

Here, Yeller
Come back Yeller
Best doggone dog in the west
Best doggone dog in the west

Old Yeller was a fighter
A rootin', tootin' fighter
In any scrap he knew just what to do
Knew what to do
A rough and ready feller
Although his coat was yeller
His bold Texas heart was true blue
True Blue

Here, Yeller
Come back Yeller
Best doggone dog in the west
Here, Yeller
Come back Yeller
Best doggone dog in the west
Best doggone dog in the west
Closing Lyrics
Young Yeller is a puppy
A little old lop-eared puppy
It's plain to see he's got a family tree
The image of his pappy
He's frisky and he's happy
And that's how a good pup should be
Frisky and happy
Here Yeller
Come back, Yeller
Best doggone dog in the west
In the west
Here Yeller
Come back, Yeller
Best doggone dog in the west
Best doggone dog in the west
Closing Lyrics (Alternate Version)
Young Yeller is a puppy
A little old lop-eared puppy
It's plain to see he's got a family tree
The image of his pappy
He's frisky and he's happy
And that's how a good dog should be
Frisky and happy
Here Yeller
Come back, Yeller
Best doggone dog in the west
In the west
Here Yeller
Come back, Yeller
Best doggone dog in the west
Best doggone dog in the west </poem>
Gallery