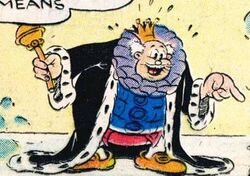 Old King Cole is a Silly Symphony character who appeared in the Bucky Bug Silly Symphony comic serials. He got his very own cartoon shorts in Mother Goose Melodies and in Old King Cole. He is the king of Mother Goose Land who summons the various poetry characters for his amusement, at least in the Disney versions.
Gallery
Ad blocker interference detected!
Wikia is a free-to-use site that makes money from advertising. We have a modified experience for viewers using ad blockers

Wikia is not accessible if you've made further modifications. Remove the custom ad blocker rule(s) and the page will load as expected.