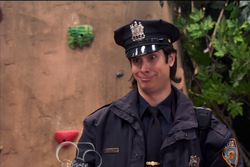 Officer Petey is a guest character on Jessie in the episode "Badfellas." He is portrayed by Joey Richter. He is known for his improv obsession. This is demonstrated when he tells Jessie "I can use some of my improv skills. I take a workshop on the weekends." He also is known for not being particularly helpful as a cop.
For instance, when Jessie is trying to pull Zuri off of a tree screaming, Petey just says "Well it looks like you've got this handled" and walks away. He shows up twice in Badfellas, first trying to report Emma and Vincent, and later in the park telling Jessie that Zuri won't leave the tree. He is also mentioned once in a phone call Jessie has to him but does not have an appearance or a speaking role.
Ad blocker interference detected!
Wikia is a free-to-use site that makes money from advertising. We have a modified experience for viewers using ad blockers

Wikia is not accessible if you've made further modifications. Remove the custom ad blocker rule(s) and the page will load as expected.