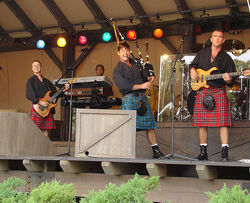 Off Kilter is a Celtic-rock band. Off Kilter was formed in 1997,[1] and has been performing regularly at Epcot ever since.
Their first album, Off Kilter included some traditional songs like "Dirty Old Town" and "Fields of Athenry" as well as covers of popular rock songs generally from Canadian artists such as "Takin' Care of Business" and "Summer of '69."[2][3]
Lineup
The band consists of Jamie Holton from Ormond Beach, Florida on bagpipes, penny whistle and vocals; Mark Weldon from Cork, Ireland on bass and vocals; Randy Holbrook from Richmond, Kentucky on guitar and vocals; Jason Thomas from Ontario, Canada on fiddle and vocals; and Scott Zymowski from Ft. Lauderdale, Florida on drums and vocals.[2]
Jamie Holton: Piper, singer, co-founder of Off Kilter. Began playing bagpipes at age 11. Winner of several piping competitions. Formerly worked at Rosie O'Grady's in downtown Orlando. Began working for Disney at age 20.[2]
Mark Weldon: Bass player, singer, and co-founder of Off Kilter. Native of Cork City, Ireland. Toured with many bands in Ireland.[2]
Scott Zymowski: Drummer. Native Floridian. Began playing for pay at age 13.[2]
Randy Holbrook: Lead guitar. Began playing guitar at age 9. Played in "Liberty and Justice" in 1995, and at Disney's Pleasure Island in a group called "Frankie and The West End Boys".[2]
Jason Thomas: Fiddle. Native of Ontario, Canada. Toured with Claire Lynch Band from 2006-2011. Performed as a substitute musician with Off Kilter for several years before joining full-time in early 2013.[2]
Former member
Tony Escapa: Keyboards. Born and raised in Mayagüez, Puerto Rico. Studied at Inter-American University and Berklee College of Music in Boston. Headed his own band called "EscapeFM" which toured Europe before his work at Disney.[2]
Discography
Off Kilter (1998)
Etched in Stone (2001)
Celtic Armadillo (2003)
The Live Tracks (2004)
Kick It! (2005)
References
External links
| | |
| --- | --- |
| | This page uses content from the English Wikipedia. The article or pieces of the original article was at Off Kilter. The list of authors can be seen in the page history. As with Disney Wiki, the text of Wikipedia is available under the GNU Free Documentation License. |
Ad blocker interference detected!
Wikia is a free-to-use site that makes money from advertising. We have a modified experience for viewers using ad blockers

Wikia is not accessible if you've made further modifications. Remove the custom ad blocker rule(s) and the page will load as expected.