"Number One, Number Two" is the thirteenth episode of the first season of Penn Zero: Part-Time Hero. It premiered on March 16, 2015.
Synopsis
When Rippen holds tryouts to replace Larry as his number two, Penn goes undercover as Rippen's new minion to find a village's stolen gold.
Plot
Trivia
The music for Penn switching back and forth was "In the Hall of the Mountain King".
This episode introduces the villain's Multi-Universe Transprojector in the abandoned fast food place Fish Stick on a Stick.
Leonard Da Vinci is a parody to a real character. 
Phil makes his first appearance.
It's revealed that Larry has specs, just like Sashi.
Penn's disguise as he's posing as Rippen's minion is similar to how Westley disguises himself as the Man in Black in the movie The Princess Bride.
The Odyssey was not shown in this episode.
Gallery
v - e - d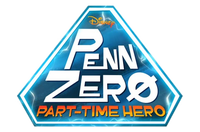 Locations
Middleburg • Middleburg Central High • The Odyssey • Fish Stick on a Stick • North Pole • Knight World • Superhero World • Arabian World • Plush Toy World • Clown World • Dinosaur Cowboy World • Cereal World • Old English World • Giant Monster World • Zombie World • Space World • Ocean World • Color World • Musical Fairy Tale World • Caveman Spy World • Future Barbarian World • Ultrahyperball World • Demon World • Alien World • Galaxy World • Temple World • Dragon World • Gothic Mystery World • Plant World • Animal Barbarian World • Toy World • Outer Space Court World • Robot World • Pirate World • Fairymania World • Steampunk World • Ball World • Ghost World • Rock, Paper, Scissor World • Beast World • Anime World • Sitcom World • Nothingness • Most Dangerous World Imaginable • Least Dangerous World Imaginable
Objects
Multi-Universe Hologram Uplink • Multi-Universe Transprojector • Pigoilet • The QPC Unit • Vortex Tops • Specs